B2B Content2Conversion Conference Day 1 Summary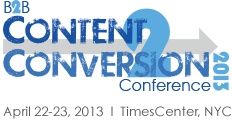 Early in the week I attended the B2B Content2Conversion Conference in NYC, sponsored by DemandGen Report.  The conference provided excellent information on the current state of content marketing for B2B marcom professionals. It also offered a glimpse into the future of B2B content marketing.
Basic B2B Content Marketing Takeaways:
Content marketing is widely accepted among B2B marketers.
Data from joint Content Marketing Institute / Marketing Profs research indicate that for leading marketers, content marketing comprises 46% of the marketing budget. Yet only 36% of B2B marketers believe their content is effective, despite the fact that they're spending more on content.
Content marketing is moving into the next level of detailed measurement and ROI.
Measurement must go deeper than click throughs, likes, and followers. Engagement is another KPI, but most importantly REVENUE.  Most of the speakers admit that in our lengthy B2B buying cycles, it's not easy to attribute a given marcom tactic to revenue, which brings me to my third point…
Content marketing tools must be used to better measure, segment, target and map content to the phase in the buy cycle where it will be most effective based on the prospect / client need.
It's becoming clear that marketing automation and content management tools are necessary to measure the effectiveness of your content marketing efforts.  

B2B Content Marketing… are you doing it wrong?
Despite the avalanche of information about content marketing, some B2B marketers are struggling to make it work.  The top three challenges according to Aberdeen research include:
Developing and managing content
56 percent of B2B companies manage content marketing in house, but outsource the writing to freelancers (shameless plus… like me) and agencies  (another shameless plus… I work with them too).
Generating engagement
Good content appropriately placed at various points along the B2B buying cycle drives engagement. It takes about 10 marketing "touches" to deliver a successful buying journey. (I remember when it was 3-5 touches.)
Creating relevant content
Knowing your buyer(s) personas combined with point 2 above ensure that your content is relevant.
One of the most obvious issues in B2B marcom relative to content is that content is too product or company focused and not customer focused.  The concept of storytelling was emphasized by several speakers with regard to focusing on the customer.  Several examples were cited including the recent Dodge Ram Truck "Farmer" commercial.
The commercial wasn't about the truck, it was about what the customer can do with the truck.
As Marketing Profs Chief Content Officer Ann Handley put it, using a quote from Tom Fishburne, "The best marketing doesn't feel like marketing."
So basically we know that, done well, content marketing works, but we need to do a better job tying it back to revenue. What do you think?
For more on the conference, search #B2BContentEvent on Twitter
By: Joan Damico
Related Posts:
» Just How Social Is B2B Social Media
» Why B2B Integrated Marcom Is Needed Now More than Ever
» A 47 Million Dollar B2B Social Media Success Story
» Do Your Marketing Communications Feel Like Marketing?
» Is B2B Marcom Creating Valuable Content?