B2B Marcom and the Social Media Center of Excellence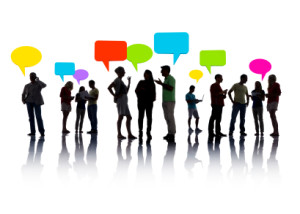 I've been doing some internal communications lately; and in the process, the topic of social media comes up. Companies have the same internal clutter to cut across as we marketers when it comes to communication. Often internal social media platforms, which are infiltrating the enterprise, represent good communication channels when used effectively.  However, I'm seeing some of the same mistakes made in enterprise social media as I saw when B2B marketers first embarked on social media.  For example, lack of a comprehensive plan, lack of leadership support, lack of tailoring the message to the medium, etc.
All this talk of enterprise social media has me thinking that marcom folks are well-equipped to support, if not lead, enterprise social media endeavors.  After all, we've already made many of the mistakes and have learned from them.  Our B2B marcom experiences in social media can help speed adoption within the enterprise, so that businesses can realize the benefits of being a social enterprise–higher productivity (yes… HIGHER), greater innovation, better leveraged knowledge resources and a more engaged workforce.
Read my latest white paper, Enterprise Social Media:  The Next Trend in B2B Social Media, to learn how B2B marcom can lead the social media center of excellence.

or

What do you think? Is marketing communications in the best position to lead the enterprise social media charge? 

By Joan Damico
Related Posts:
» Just How Social Is B2B Social Media
» Why B2B Integrated Marcom Is Needed Now More than Ever
» A 47 Million Dollar B2B Social Media Success Story
» Do Your Marketing Communications Feel Like Marketing?
» Is B2B Marcom Creating Valuable Content?