B2B Integrated Marcom Mix in a Social World and on a Shoestring Budget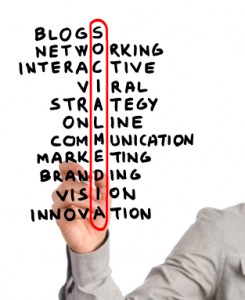 For many B2B marketers there's little or no "experimental" marketing communications budget, leaving social media out of the mix—or at least underfunded. When you have to make every marketing dollar count, time- and resource-pressed B2B marcom pros take the path of least resistance and stick with a more conventional mix. In fact, the top two reasons why marketers use social media is to drive website traffic and generate leads (2011 Social Marketing Survey, Chief!Marketer).    But with limited resources, how do you know the most effective social media to integrate?
B2B marcom pros whose products and services involve considered purchases need to look at the incremental benefit of integrating social media into the marcom mix.  In order to do so you need to understand how each social medium interacts with traditional media.  Then, determine if you have the resources and leadership support to pursue a given social media channel.   Just as limited resources force you to make tradeoffs to participate in industry events, or advertise in trade publications, so too does social media force tradeoffs in what social media to participate effectively.
Note:  Don't underestimate the importance of leadership support.  Without it, your social media endeavor will not succeed unless you're able to prove success.  Then, leadership may take notice and back future endeavors.  Trust me… I know this one from experience.
Remember, participating in social media doesn't have to be an all out profile setup on select social media sites.  It can simply involve participating on sites and in communities where your expertise and brand add value and can in turn generate leads.  The following represent a minimalist approach to integrating social media in the B2B marcom mix:
Any one or a combination of the above B2B social media tactics can get you started without breaking your budget.  How have you integrated social media into your B2B marcom mix; what's the cost/payback?
Related Posts:
» Just How Social Is B2B Social Media
» Why B2B Integrated Marcom Is Needed Now More than Ever
» A 47 Million Dollar B2B Social Media Success Story
» Do Your Marketing Communications Feel Like Marketing?
» Is B2B Marcom Creating Valuable Content?